Bears appear to be slow, lumbering creatures; but appearances can be deceiving. If you've ever been chased down by a bear – and we hope you never have (or will be) – you know they are quite fast. The same is true of Voytek.
Named after a Nazi fighting bear, Voytek is an exceptional creature. It has the 'go anywhere' benefits of a fat bike but rides (and handles) like a mountain bike.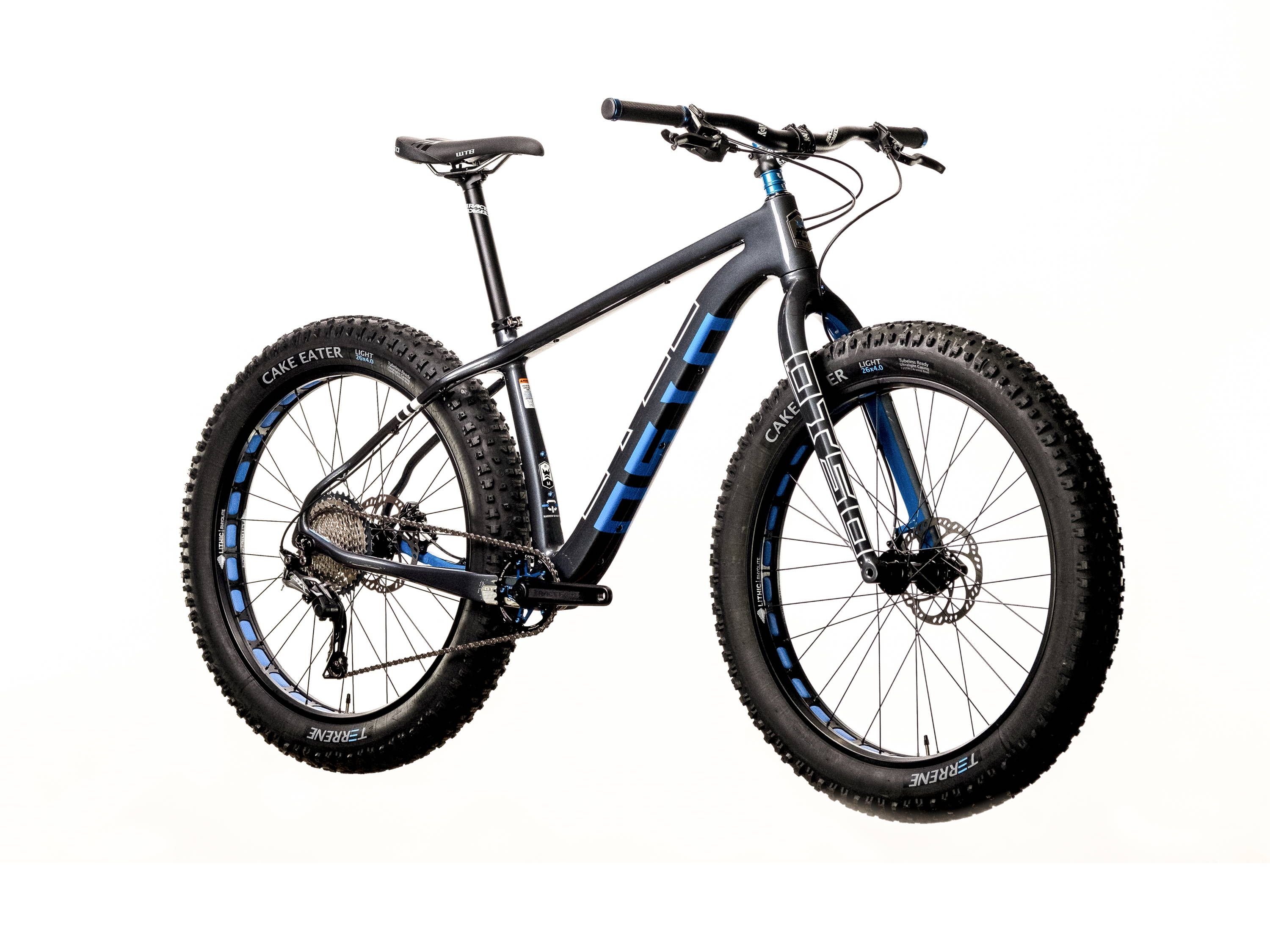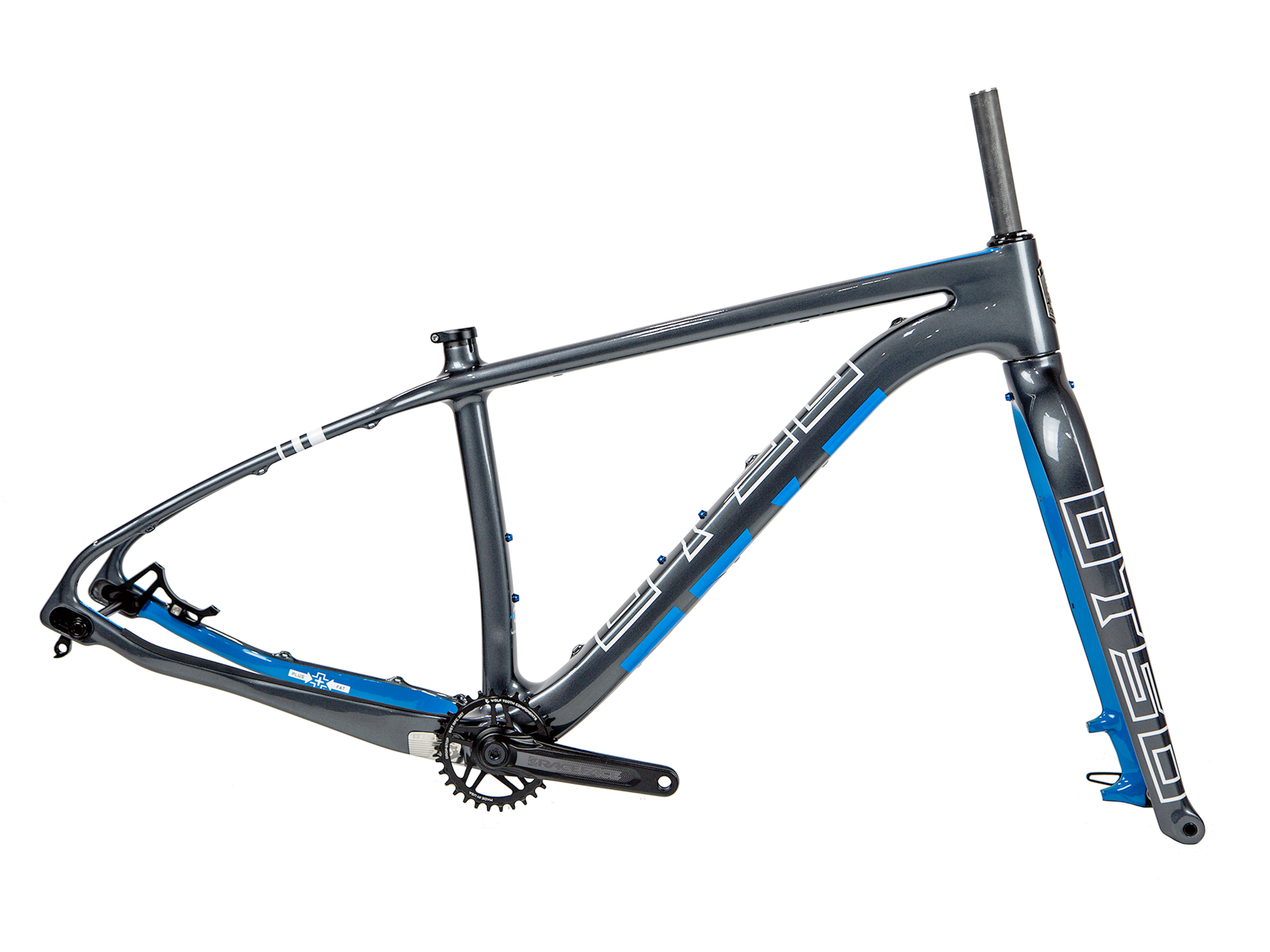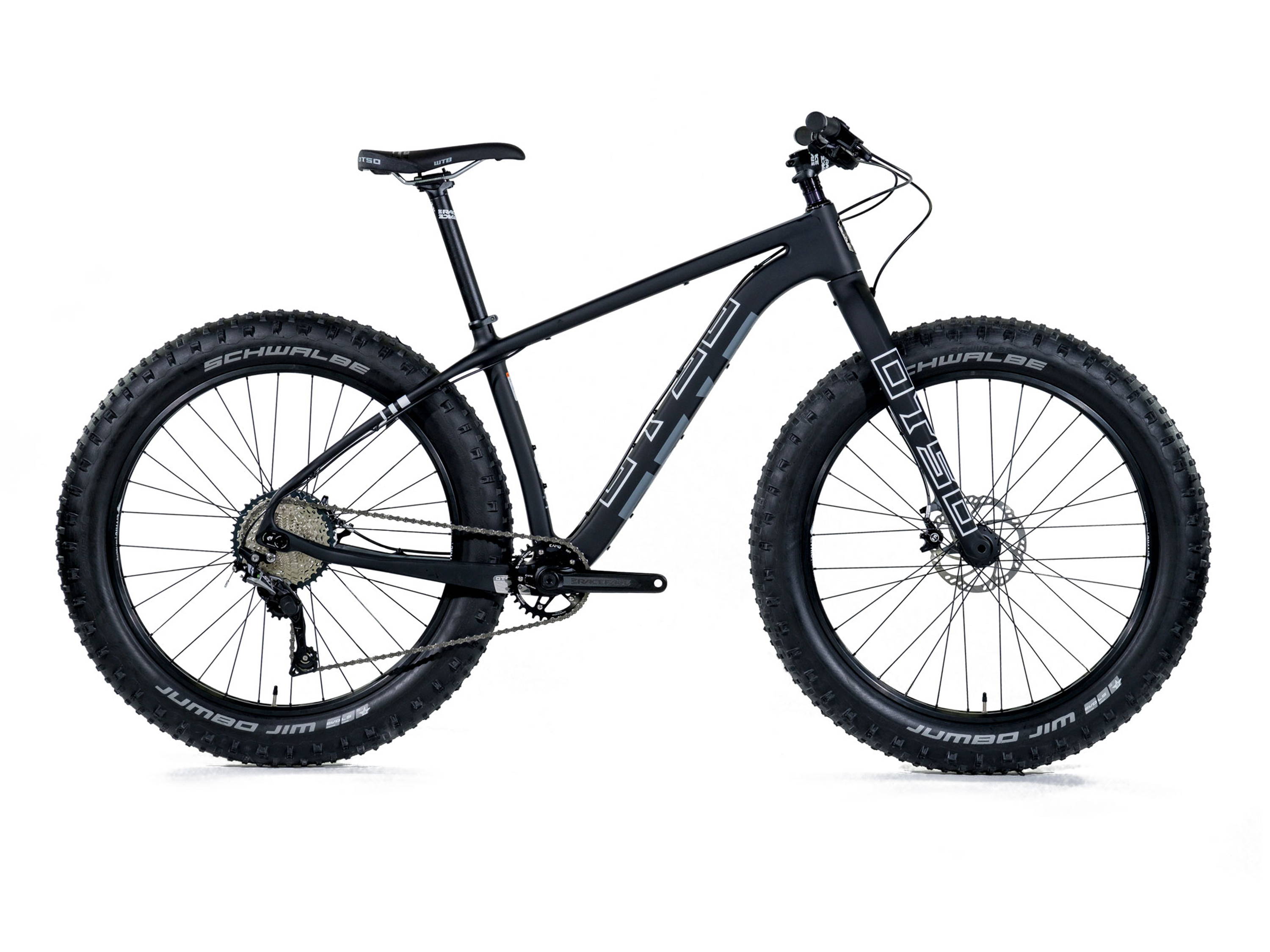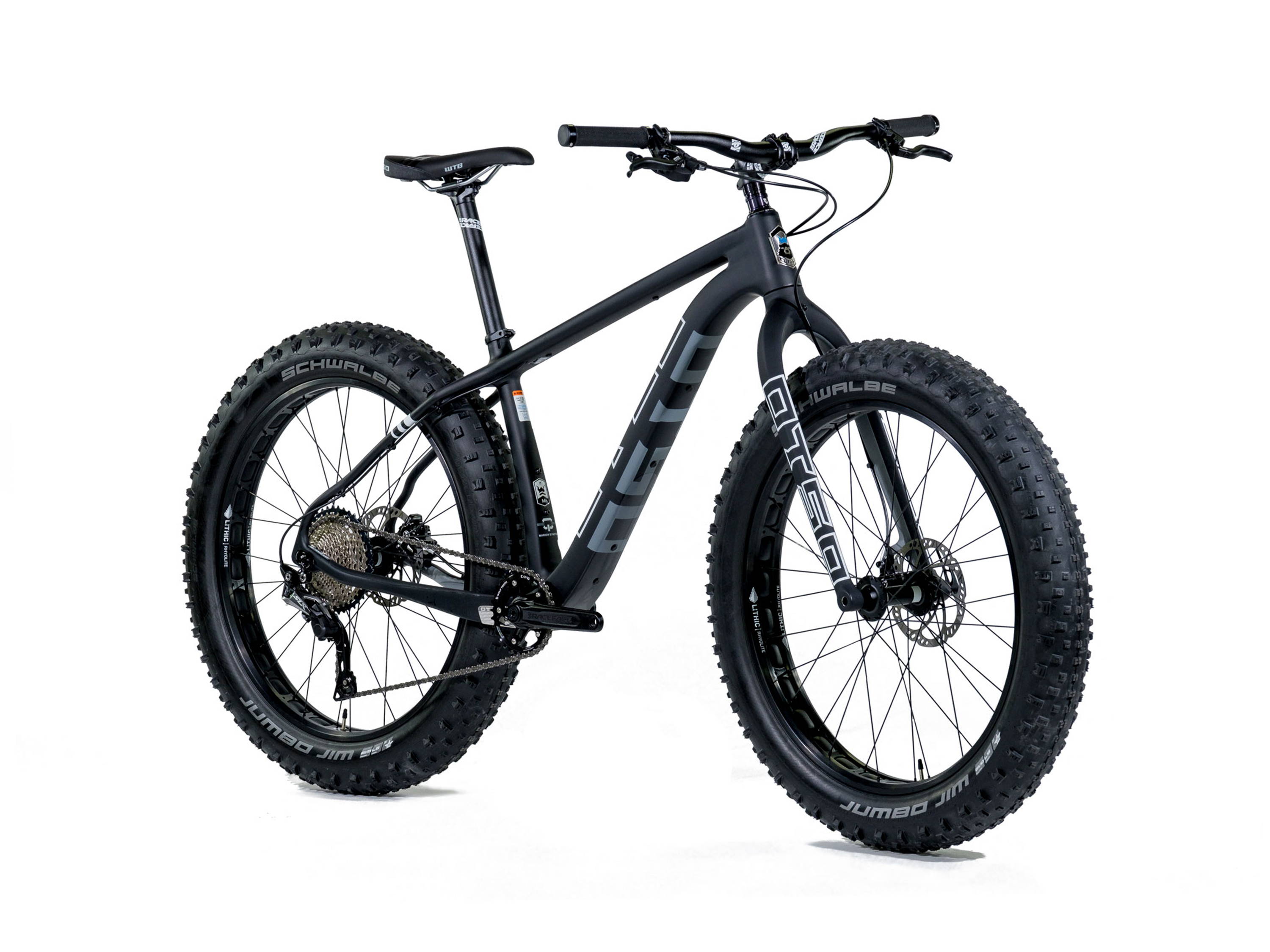 The Voytek can run a wide range of wheel sizes – from 27.5+ MTB tires to 26x4.6-inch fat tires.

Voytek's narrow Q-factor helps reduce the breeze between your knees! It's also what makes Voytek ride like a traditional mountain bike.
"The Voytek is not your average fat-tire machine; it's a bike designed to be built for many different intended uses. The Voytek can be trans-formed into a plus-sized hardtail with a suspension fork and a dropper post, or it can be ridden as a fat bike with the narrowest Q-factor on the market."
Mountain Bike Action Magazine
"My first impressions of the Voytek are very, very positive. Not only have they designed in some features that should offer big advantages for some riders (like the narrow Q-factor) but they have also developed a very well thought out design with high quality construction."
"Wide Q factor is something that fat bikers have had to live with as tires started to get wider and wider, but now that I've had the taste of something narrower that still fits relatively wide tires, I'm not sure I can go back."
"If a 4-season rider asked me what single bike to buy for year round enjoyment, the Voytek would be top of my list."
Two tire sizes. One set of wheels. Plus AND fat, Voytek does that!
"I feel pretty safe in saying that yes, this joyful warrior is for you. Mountain biking? It's a riot. Bikepacking? You're good to go. Casual fat biking? It'll be the easiest bike to toss in your buddy's truck. Fat bike racing? Considering how incredibly stiff — not to mention light — the frame is, racing might be this bike's calling."
"Otso blurs the line between plus-size and fat. It's a carbon-fiber hardtail built for riders who need high performance and good value, transforming between two setups: mountain bike and fat bike. It does so with no compromise and has the narrowest Q-factor of any production fat bike."
GearJunkie
"It's the bike I've been wanting for years because, at last, your year-round rig can double as a winter fattie without compromise in either format."
"It's smartly designed and its details well thought-out, it's reasonably priced, looks good, rides and handles well, and should last for ages. What's not to like?"
The patent pending Tuning Chip™ system provides 20mm of chainstay length and 4mm of bottom bracket height adjustment, allowing you to fine tune your ride.
Voytek's longer top tube, short chainstays – the shortest in the world for a fat bike – and slightly slacker head tube angle mean more speed and more fun.
We invested extra time and money making sure every important dimension is adjusted for each frame size to give every rider the best fit possible, from smallest to tallest.
COMPETITOR TESTED, ISO APPROVED
Voytek's patent-pending frame design exceeds all ISO frame safety standards and has been proven over thousands of miles of test riding, including the legendary Iditarod Invitational and Arrowhead 135 competitions.
100% CARBON, ZERO COMPROMISE
Voytek's 100% EPS molded carbon fiber provides smooth interior walls and optimized carbon compaction with no aluminum inserts or structural fiberglass.
Voytek's suspension-corrected geometry is compatible with an Otso™ carbon rigid fork or up to 120 mm travel suspension fork.
Numerous integrated but well-hidden rack and fender mounts are quite useful to more adventure-minded riders.
The Voytek frame is compatible with internally routed dropper seat posts.
Designed by the Otso engineering team, Voytek frames are manufactured in one of the premiere carbon fiber factories in Taiwan and come with a two-year limited warranty. All bikes are inspected and assembled at our headquarters in Minneapolis, MN USA.
Voytek™ patented carbon frame, Tuning Chip™ dropout system, 177x12 rear hub spacing, Plus-Fat Narrow Q-factor design with PF107BB, guided internal rear derailleur routing, accommodates internally routed dropper post, external brake routing, downtube and chainstay protectors, matching allow bottle cage bolts

Voytek™ rigid carbon fork, suspension corrected, tapered steerer tube, 485mm axle-to-crown, 51mm offset

Cane Creek 10 Series, IS41/IS52, with Wolf Tooth spacers and stem cap

Shimano SLX Trigger, 11 speed

Shimano SLX, 11-46t, 11 speed

Race Face Aeffect 83mm with 175mm crankarms and custom offset Wolf Tooth CAMO system, 32T chainring (size Small frame ships with 170mm crankarms, 170mm crankarms are available on other sizes by request)

Race Face Ride, 740mm riser

Race Face Ride (60mm standard. Other lengths available by request)

Lithic sealed cartridge bearing 6-bolt rotor hubs with tubeless ready 70mm Lithic Rhyolite aluminum rims. Tubeless kit upgrade available.

Schwalbe Jumbo Jim 26 x 4.0 LiteSkin

25.4 lbs with rigid fork set up tubeless
183mm with Race Face Next SL crankset, 188mm with Race Face Aeffect crankset

Ø30.9mm, accommodates internally routed dropper post

150x15mm thru axle / 177x12mm thru axle

Ø15x150mm, TP = 1.5, TL = 12mm / Ø12x216mm, TP = 1.5, TL = 14mm

Tuning Chip Right Dropout

74mm post (160mm native, 180mm max)

74mm post (160mm native, 180mm max)

485mm, suspension corrected to 100-120mm travel forks

Bare frame weight (size M)

Fork weight (Otso rigid fork)

Up to 26 x 4.0" in forward Tuning Chip position, up to 26 x 4.6" in middle and back position

Up to 26 x 4.8" on 100mm rim

Using a 120mm suspension fork with slacken the head tube angle by 0.5˚
S
M
L
XL

Nominal head tube angle (rigid and 100mm suspension fork)

Nominal head tube angle (120mm suspension fork)

Tuning Chip induced head/seat tube angle change

Rigid fork axle to crown length