The Tuscobia Winter Ultra is a 160 or 80 mile race along the Tuscobia and Wild River Trails that takes place in December or January. The 80 mile course is one way, this year from Northern Pines Resort on Butternut Lake to Rice Lake, Wisconsin. The 160 mile course starts in Rice Lake; at Butternut Lake racers turn around and go back the way they came. In 2019 I completed the 80 mile race on bike, it was warm (for winter), rainy and icy. This year I was wishing for cold and my wish was granted, and then some.
The alarm went off at 4:00AM, but I was already awake. The buzzing was just confirmation to get up and start the final steps of getting to the start line of the Tuscobia 160. I tried all my tricks to get to sleep, but the anxiety of staying out over night in forecasted -20 degrees Fahrenheit weather and the unknowns of the trail had my mind racing. Time to get out of bed, make breakfast, layer up and roll out the door of the hotel.
Except, I decided to make some last minute clothing changes because the temperature was currently -4F and I thought it would be 5 above. Not that 9 degrees make that big of a difference, but in my head below zero meant warmer layers were needed. This was no simple task, as it meant unpacking the saddlebag, swapping out clothes, and packing it up again. I checked the clock and I was still doing great for time.
Then I decided I should put face tape on and be done with it. Face tape is used to prevent exposed skin from getting frostbite. I hacked some tape roughly into face shapes with my Leatherman knife and put them on. This took longer than anticipated because I used a small knife and not scissors to cut; you gotta use the correct tool for the job. I checked the clock and now I was running late.
I asked my husband, Andy, to bring my drop bag to the start for me and rolled out into the dark. Twenty-five minutes to get to the start should be enough to go 2 ½ miles, but not in a comfortable amount of time. This ride gave me my first taste of the trail conditions and the north wind that blew straight down the first 5 miles of the course. It wasn't a good taste.
Thankfully, I arrived before the race began with enough time to check in, snag my drop bag from Andy, add it to the truck with the others, give Andy a kiss, the dogs a pet, and hop back on my bike. Unfortunately, my hurrying meant that I had sweated a whole bunch. Winter ultra veterans will tell you sweating means trouble. We sweat when we're warm to cool our bodies down. When it's cold outside, you don't need to be any colder. By now the temperature was about -13 degrees Fahrenheit and I was worried I was in trouble.
Race Director Helen Scotch gave us the count down to go and we were off! I used the first straight 5 miles to calm my breathing and tried not to overheat. Top layers were unzipped and goggles came off because they fogged up due to my sweaty face. At the turn onto the Tuscobia Trail, I stopped with some other racers and took off a layer of socks because my feet were so warm.
Then I spent the remaining 30 miles to the first checkpoint in my own head with thoughts like, why do I do this sort of thing, it's actually not very fun, and I'm going super slow, maybe I should just drop. But how can I drop out with my dignity? I couldn't come up with a good answer because even though the going was slow, I wasn't cold and I was still going. My liner gloves were wet, my baselayer through to my outer fleece were damp, my buff formed an icicle that attached to my outer layers and eventually I couldn't unzip them to get to my water. Before that happened though, I dug out my phone to look at why my eyelashes kept sticking together.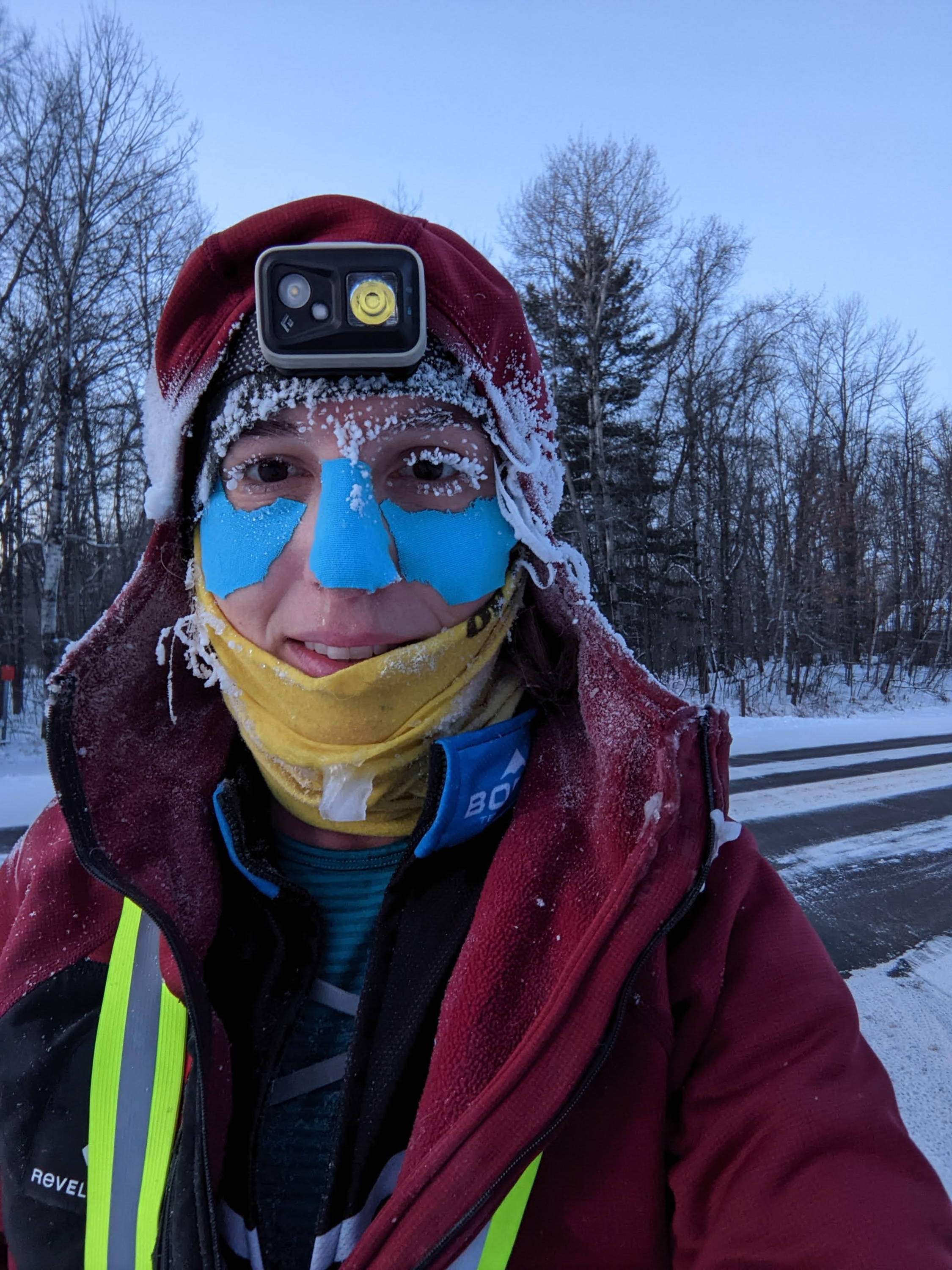 The eyelash ice was becoming a problem and I worried about getting frostbite on my corneas. So I pulled out a ruff that's attachable with magnets and put it on the hood of my fleece. Once zipped the ruff created a wonderful little microclimate around my face that melted the frost. With this set up I was still too warm, but felt confident enough that I could make it to the first Ojibwa checkpoint to dry out and change baselayers.
Once I got to the checkpoint the wonderful volunteers checked me in, offered me food and drink and helped dry out my gear. Seeing friendly faces (hi Rebecca!) and getting such support buoyed my spirits. Here I was told that I was in 2nd place for the women's 160 race. This was surprising and it lit a little spark in me to keep going. A volunteer in a fox costume did a cartwheel in the snow for me as I turned back onto the trail with a smile on my face.
After the town of Winter I started seeing more 80 mile racers coming in, and cheering them on was one of my favorite parts of the race. Greeting everyone, looking to see if I could spot friends in the distance kept my mind focused on positive things. I had planned to squeak my narwhal horn in encouragement for folks passing by, but it was so cold the plastic had frozen stiff and Gnarly couldn't squeak.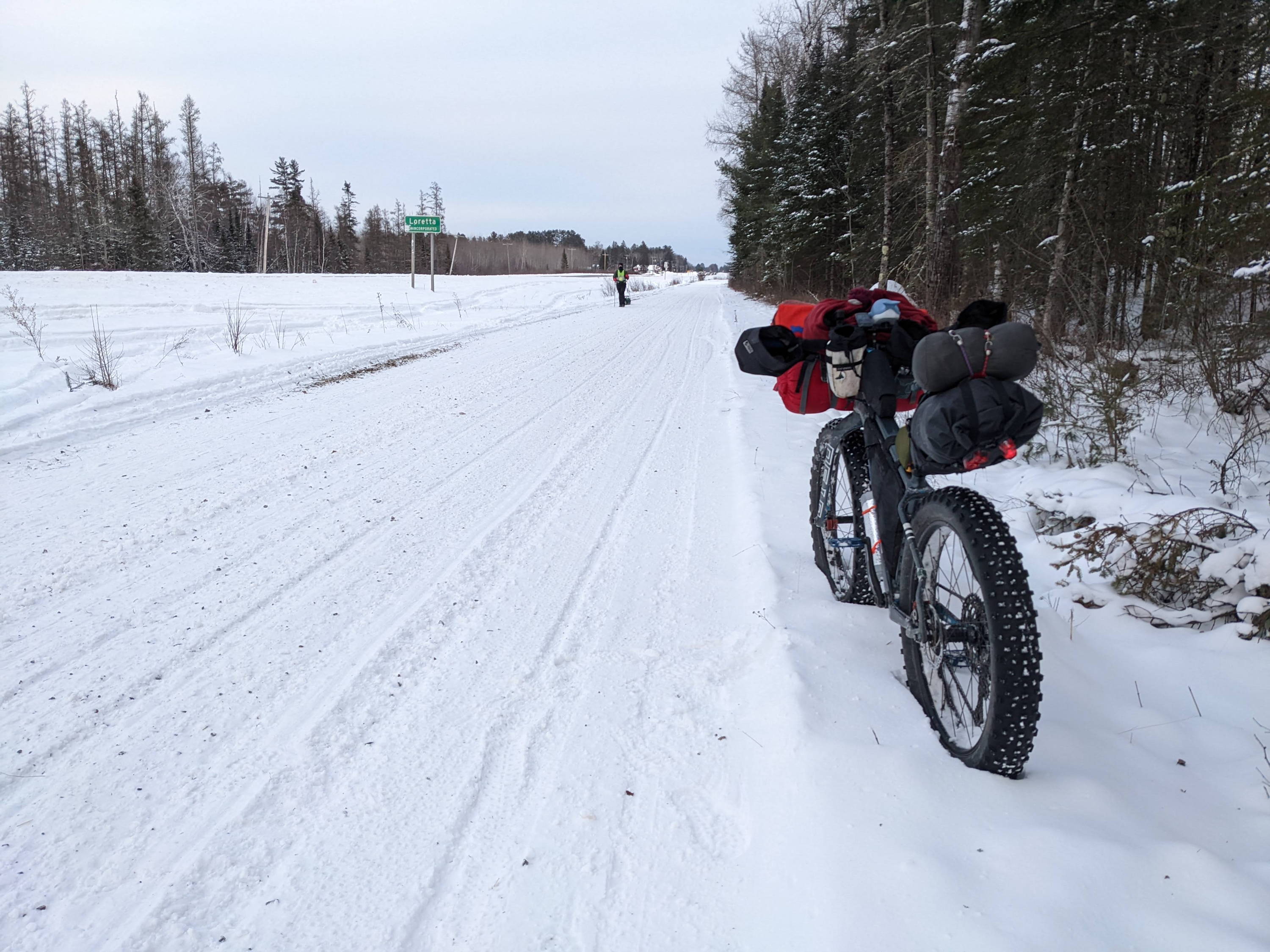 One aspect I appreciate about winter training is that I get to see a lot of sunrises without getting up too early. After the race start, when I was grumpy and in my head, there were some really beautiful and delicate undulatus clouds marking the first sunrise of the New Year. That evening we were treated to a stellar sunset as well. Riding your bike is a great way to do some cloud spotting, and always remember to look behind you.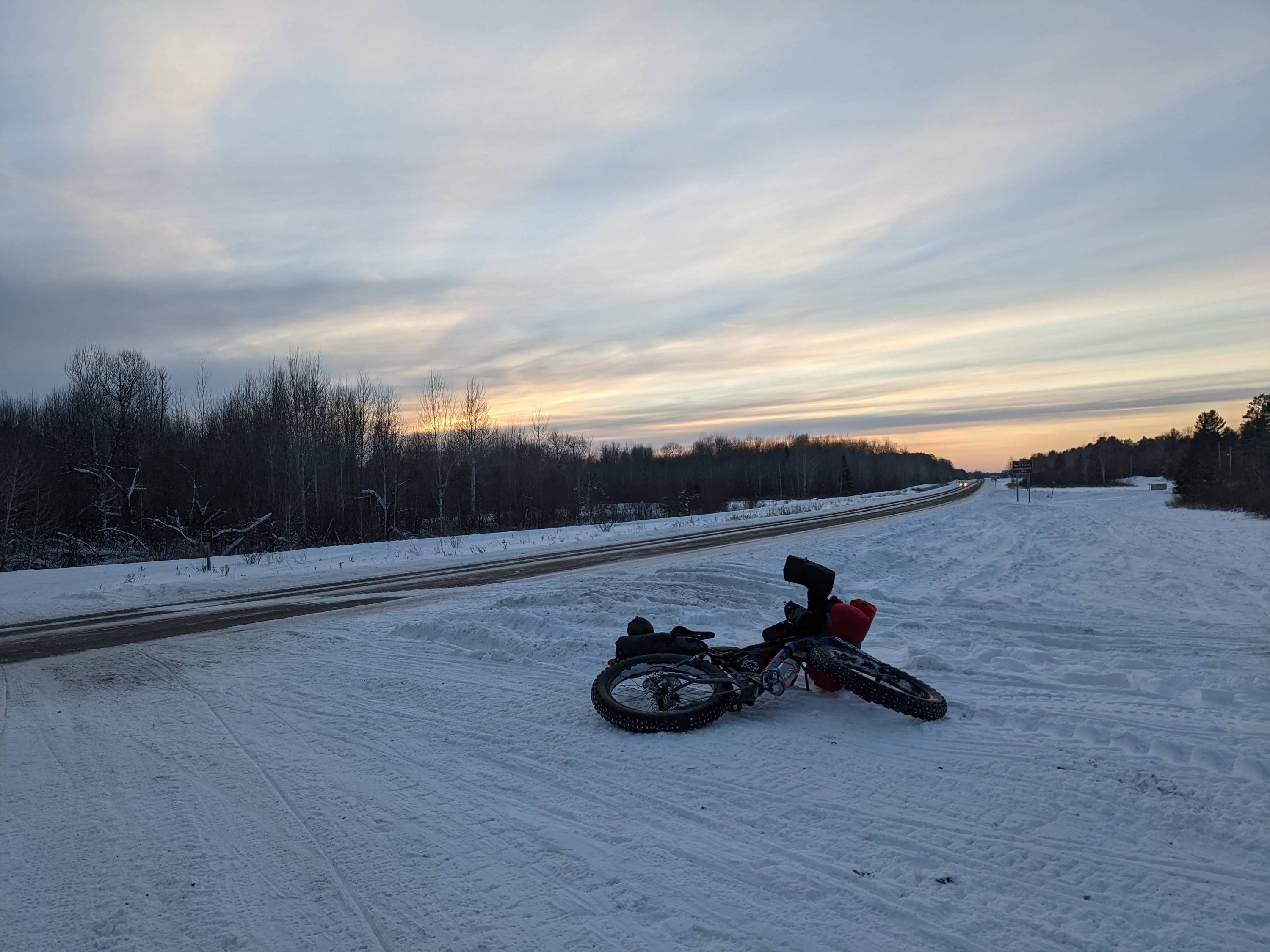 By Loretta my goal times were out the window and I was just riding to carry on. I had to admit to myself that I would be riding into the turnaround at Butternut Lake in the dark. Once the dark hit I ended up leap frogging with a couple other riders. We'd ride together for a bit, split apart, and then come back together. I was set at riding my own pace because I didn't want to burn out and leave nothing left to get me back to Rice Lake.
The new route to the turnaround at Northern Pines Resort on Butternut Lake was like snowmobile single track. It was pretty fun in parts and pretty steep in parts, which was tough on the legs after riding for so long. Once on the lake, construction barrels traced the route to the cabin and reports of open water had me keep close to them while riding in the dark.
Once again the wonderful volunteers at the turnaround checkpoint were attentive and incredibly helpful. They dried out my clothes and brought me hot soup and tea. I finally got to chat some more with other racers and it was nice to get to know people better who do such silly things as ride their bikes through the night in the dead of winter. As I dried out I worked through what to do next. Do I bivy there and finish the last half of the race refreshed? Do I go ahead and just keep pushing? Eventually I decided to head back to Winter, possibly to bivy by their newly remodeled train depot which has very nice heated bathrooms. Using a nice warm toilet instead of a frozen-ish port-a-potty was very enticing. Plus, bivvying at the turnaround would make it too easy to drop. Though with the number of folks dropping, getting a ride back to Rice Lake before morning was unlikely. At this point I knew my second place finish was secured, as long as I finished. This helped me mentally to be less frustrated with being slow. Just keep on going, I have plenty of time to finish.
With fresh baselayers I headed out into the night with another rider. He was planning on going at a sweat-free pace and I thought he'd be a good person to follow along. Unfortunately for me, coming off the lake I bounced off a snowbank and tipped my bike over. Alas, I was alone again. The snowmobile single track was much more fun on the way out, with chicken noodle soup in my belly and a good rest on my legs. This energetic, revived feeling did not last.
I became startled by animals in the snow. No. No, that was just snow that looked like an animal. My bedtime is pretty strict, mainly because my body enforces it. And now it was after midnight and I was up past my bedtime. Maintaining a straight line was a struggle. I decided to chug half my thermos of black tea to try and stay awake. The main outcome of that was to make me feel ill—like I was about to be sick. But at least I wasn't sleepy. After what felt like an eternity, I arrived at the train depot in Winter. Despite what I thought, the depot itself wasn't open.
I joined other racers while we all tried to figure out our next steps. Sleeping at the depot meant laying out on the wooden platform, which would be quite chilly in -20 degrees F with the draft under the platform. Saying goodbye to the nice, warm bathroom, I decided to push on the next 5 miles to the Ojibwa checkpoint. By now I was really sleepy and thought these 5 miles would drag on. However, the clouds were clearing, making the temperature drop, but then the stars began to shine. Down the trail, just above the trees I could see a red star, twinkling, leading me onward. Mars! Seeing Mars energized me and the five miles I was dreading went by quickly.
Again the volunteers took good care of me, providing me with hot chocolate and soup. Another racer, Matt, and I talked over the benefits of taking a nap or pushing through the night. My knees had been hurting for a couple dozen miles, so a nap would help with wandering across the trail while being sleepy and would give my knees a rest. Matt agreed a nap would be good and we set up our bivvies. I wore my big puffy jacket, puffy pants, refreshed the toe warmers between sock layers and wore my boot liners in the sleeping bag. The hardest thing about an accordion pad is keeping it from folding it back on you, so I got some help to stretch it back out and then laid down for a sleep. I've never slept really well in a bivy, so I didn't anticipate needing an alarm, I planned to get up when I got tired of trying to fall asleep. Looking at the stars I closed my eyes.
When I opened them again the sky had changed colors. It wasn't black anymore, it was a cold shade of teal. I had slept! I felt better! Wow! The volunteers were moving the picnic tables around us, so I decided it was time to get up. Matt and I hadn't discussed if we were leaving together or if we would go on our own. He was still sleeping, so I did what my Dad does when packing up the tent while we're camping. I put my sleeping bag away really noisily. Unfortunately it was only two pieces of gear, so I made up for lost noise by chatting with the volunteers. It was just before 7am, so I had slept for over 2 hours. No wonder I felt refreshed! Matt awoke and started on the process of getting ready too. After getting water refills and additional snacks, we were set to go out. I told Matt to go on ahead so I could go at my own pace and not worry about slowing anyone down. Sure enough on the trail from Ojibwa Park to the Tuscobia trail, I had to stop to adjust my layers. And then I stopped again because the sunrise was beautiful. And then again because the steam coming off the Chippewa River was gorgeous. A nap will do wonders for your mood.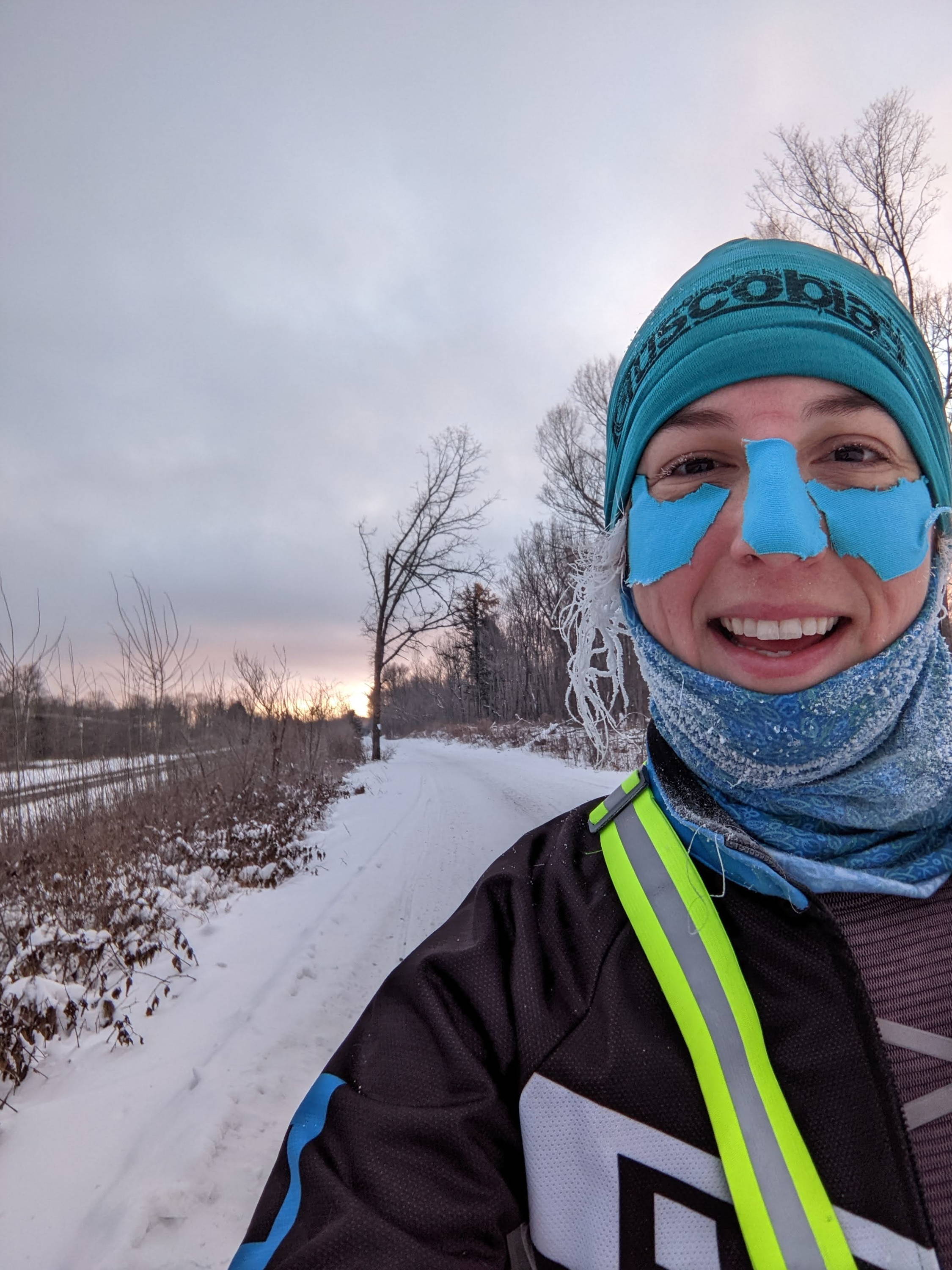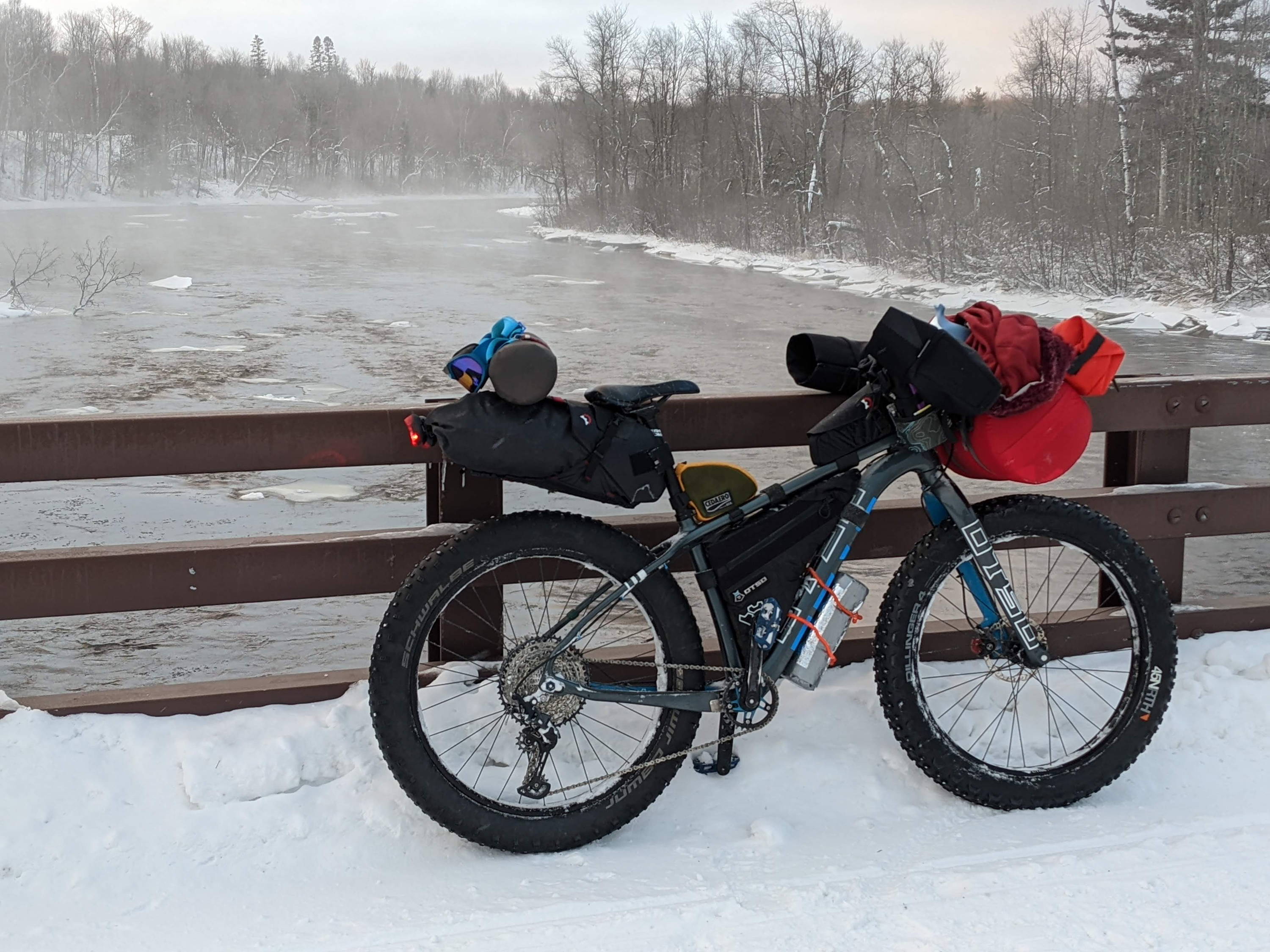 After stopping for photos I realized that my goggles were dry and I wasn't sweaty, so I could actually wear them again. All kinds of good things were happening! Too bad my knees weren't feeling the joy. At least it was only 45 miles back to Rice Lake. I had the whole day to get there. So even though I was plodding along, I was still plodding.
After the thrilling up and down by the Lemington railroad tracks (will a train come through the valley at the same time as me, in a deeply unmatched game of Criss Cross Crash?) something had to change. My knees hurt so much. I didn't know if I could keep on pedaling. Heck, I had even started walking for stretches. To attempt some relief I did a trailside pants change. Fleece-lined pants off, fleece shorts off, (keeping on bike shorts and wool long johns), I pulled on fleece-lined leggings with the fleece shorts back over top. Hopefully the stretchier fabric would give my knees a break. As I was making this change, a runner was approaching. I asked if he had any pain relievers. It was still 13 miles to Birchwood, which would be the next town with a store for me to buy my own. In the state I was in, I wouldn't make it those miles. Fortunately, he did! My trail angel was Alex and those Ibuprofen were so, so appreciated.
Andy and the dogs met me at Ed's Pit Stop in Birchwood and it was nice to see them and pet the puppies. I snagged some Tylenol, a hot cheese burger and some caffeinated bubbly water. I still had plenty of snacks in my bags, but nothing sounded good at that point. Except bubbly water. I really wanted bubbly water.
Usually at some point in a ride, I just want to be finished. During this race, that point came in Birchwood. I had to cover 16.5 miles on painful knees and I wanted it done in 2 hours. In normal times that seems reasonable. But I had 144 miles on my legs already and the temperature was in the single digits. Perhaps with the "get it done" determination the miles would pass quickly So off I went, boosted by dog pets and a gas station cheeseburger.
When you're doing an ultra, or maybe anything difficult, it's important to be your own best friend. I was not a good best friend to myself on this stretch of the course on the way out, so maybe for the return leg I could be a better friend. Alas, the best friend in my head decided it was time to sing "Here Comes Santa Claus" over and over. I hated her. Please, think of another song, any song. My brain could not think of the words to any other songs. Have I even heard other songs before? This dreariness was broken by catching up to runners on their homestretch. And what was most certainly not a hallucination, SIX (!) horse-drawn buggies. I stared in amazement. I was caught staring in amazement by a buggy driver and we exchanged waves.
Delighted I kept pushing the pedals. Seeing and overtaking runners and dodging wayward sleds, I made the left turn onto the Wild Rivers Trail that would take me to Rice Lake. The scenery looked familiar from 2 years ago, but not from the day before. It was too dark and I was too in my own head. The sun had begun its descent and I was almost done. In the distance I saw a bright orange dot, would that be Andy in his hunting jacket? The dot seemed small and far away, but gave me something to focus on. A few more choruses of Santa watching you when you sleep .. and it was Andy! The end was in sight!
I finished the Tuscobia 160 in 33 hours and 1 minute. I was the second of the two women that finished the 160 on bike. Only one other woman finished the 160, and she was on foot. Overall I'm really proud of finishing despite being grumpy, in pain, and only having the one song in my head. The finish rate for all 3 disciplines and both distances was 47%. Going at my own pace and taking a nap were what really helped me. Being able to dry out clothes, switch base layers, and having plenty of warm layers were also key to managing the cold.
I wouldn't be able to go on adventures such as this without the support of my husband Andy, he helps make sure I do my workouts and picks up my slack at home. Otso has been a fantastic sponsor and makes sure my bike works smoothly. In late 2021 I started working with Kate Coward at Full Potential Coaching and I've made a lot of gains! Having someone who understands what winter ultras are all about makes the coaching incredibly focused. Finally, I appreciate the cheers and support from my teammates on Corpse Whale Racing. Our Team Mascot, Gnarly, led the way for the whole race.